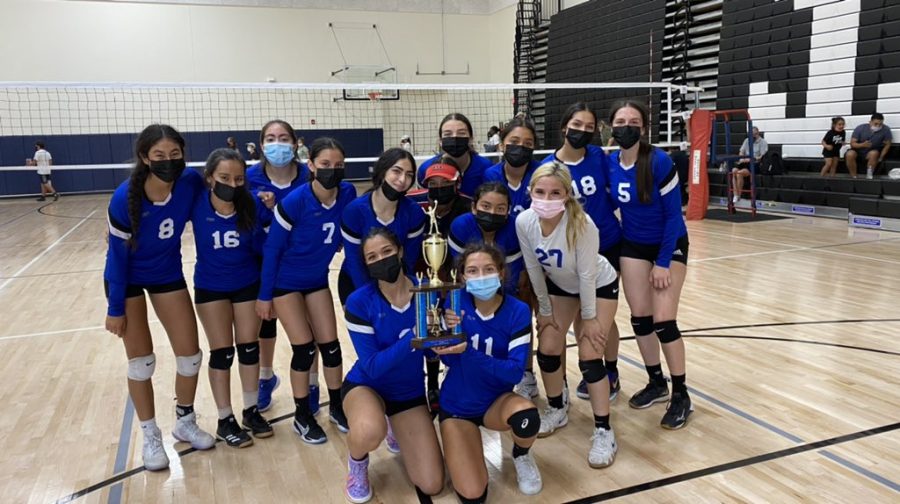 The girl's varsity volleyball team are the monarchs of the court this season. With a 14-4 season this year in division six, the girls' team is not stopping for anyone. 
Pacifica High School, located in Garden Grove, hosted a volleyball tournament on Saturday, September 25th. 
Successfully earning the title as the first winners of the Mariner Tournament, the team had their share of fun and memorable moments. But hard work comes first and Senior Litzy Guerrero said, "It was very important for us to make a statement at the tournament that we were ready to win and that we were doing everything in our power to accomplish our goals this season." Their goals this season are to win as many games as possible and become Del Rio League Champions. Although this tournament had nothing to do with Del Rio League, it was a stepping stone towards their ultimate goal.
Nine grueling hours of volleyball does not consist of all hard work, but exciting moments between the Lady Dons. The girls' volleyball team knows how to keep things light during stressful situations. 
"The funniest moment during the tournament was in the morning when we started doing Tik Toks and our coaches joined in on it. I think that was a funny moment and a good way to start off the day" said senior Alyssa Silva.
Traveling to Garden Grove and interacting with multiple teams leaves concerns for the spread of COVID-19 throughout the tournament. On El Rancho's side, Silva feels confident in her safety with her coaches.
"I don't have any concerns about COVID because our coach Picon is very strict about keeping our masks on," but other teams were not to the level of varsity volleyball coach Mrs. Picon. Silva said, "It gets annoying when other schools play with their mask down because they are not cautious of others." Nevertheless, COVID precautions have not stopped the Lady Dons.
Winners take time and practice. The girls practice every day during sixth period and have games every Tuesday and Thursday. Senior Litzy Guerrero acknowledges her coachs' constant support. "We wouldn't have accomplished what we have without our coaches Mrs. Picon, Coach Randdy, and Mr. Jimenez. They push us to be our best selves as players and overall as people and we can't thank them enough for everything they have done for us" Guerrero said. 
After constantly practicing, the varsity volleyball team has created a strong bond this year. Miranda Gonzalez, a junior, said, "I got really close with all my teammates and I think we have such a strong bond on and most importantly off the court as well." These strong bonds are the foundations for a strong volleyball team with trust in one another. She adds, "I love them all so much and I'm excited to bond even more."
The captains this year are junior Yammile Picon and senior Litzy Guerrero. The seniors this year consist of Guerrero, Silva, Roselia Casarez, and Giselle Covarrubias. 
Emotions running through the seniors' hearts as they play their final season of volleyball. Giselle Covarrubias said, "It's a mix of emotions. I've spent the last four years playing volleyball and it has been the best part of my high school experience." Her sadness and thankfulness are felt across the senior members. 
Guerrero said, "It was an honor to be a player on this team" while Silva thanks her teammates "who made her day better at practices or games."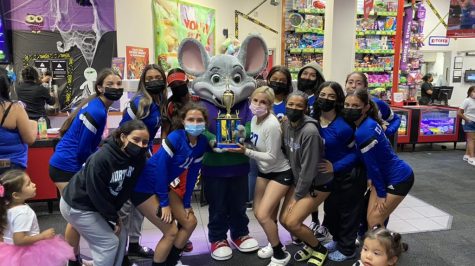 As the girls prepare for Del Rio League, the seniors feel confident in their abilities. The camaraderie and support will push the girls towards bigger and better things. Covarrubias knows their team is special and will continue to work hard in preparing for the Del Rio League finals. Guerrero and her teammates feel like they can take on the world because everyone is playing their part in supporting each other in and out of the sets.
The girls' varsity volleyball finishes their season with their last home game on October 14th against Santa Fe.