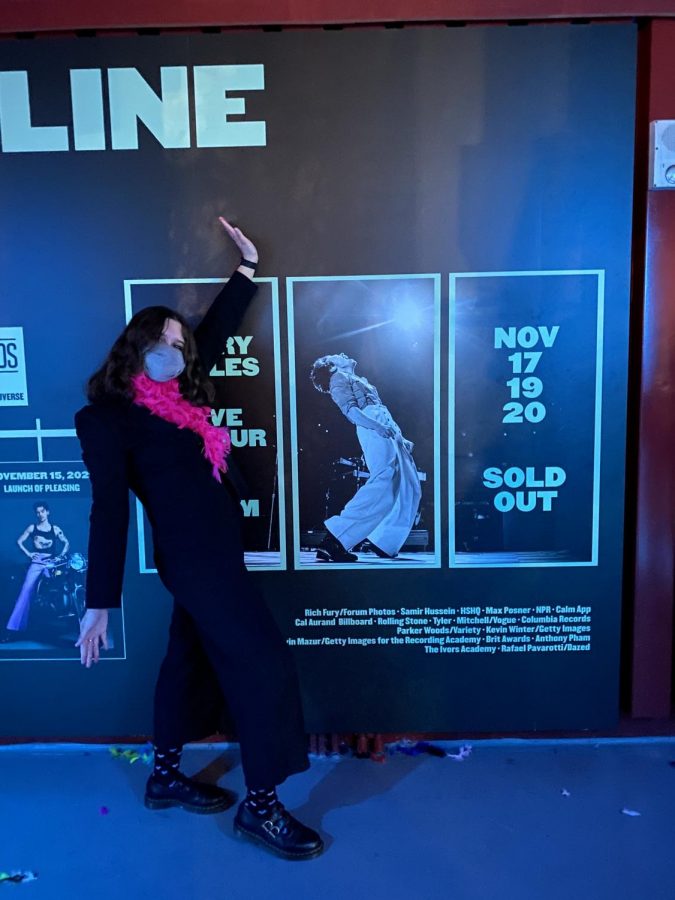 Harry Styles truly steals hearts on stage, whether he is right in front or is a small dot prancing around the stage. His concerts are like no other and that experience is a core memory for me.
Harry Styles has been on his second tour, "Love on Tour" since September 4 in Las Vegas, Nevada. He traveled to LA for three shows from November 17, 19, and 20th. I went to his Friday show, November 19th with my mom. She originally bought the tickets as my early Christmas gift and we arrived around 7:00 pm.  My abuelitos dropped us off at the Forum where the parking lot was packed with fans. 
As we were walking in, many concert-goers were dressed to the nines.  Harry fans know how to dress up with their boas, dresses, sparkly outfits, and more variety.  Entering the Forum, a massive line of fans were waiting in line to get any leftover tickets.  We checked in and bought some merchandise upon entering.
The COVID protocols eased any fear my health-conscious mom had. Masks were required for all ages.  Concert goers that are 12 and over, must be vaccinated and show proof of vaccination.  People 12 and under are required to bring a negative COVID test and for anyone who can't receive the vaccine, a doctor's note is needed.  It allowed me to experience the concert without lingering fears which I was happy about.
My only critique of the concert thus far would have to be the prices of the merchandise.  The sweaters were $70 and the shirts were $45.  The shirts were cute, but for $45, it wasn't as accessible to everyone who already spent a lot of money on tickets.  Did I buy it…Yes. 
But that is because I am willing to spend that for Harry.  Besides the questionable merchandise prices, the Forum was decorated with lyrics from his songs, photo booth areas, and more. 
Inside the Forum, some of the men's bathrooms were open as women's bathrooms due to the large majority of women at the concert.  Even with the men's bathrooms opening as women's bathrooms, the lines were still long, which makes sense for a sold-out concert. 
Before Harry performed at 9 p.m. he had an opening act with Jenny Lewis.  I have never listened to her before, but I can see why Harry Styles chose her.  Her folk-pop-type music sounded similar to Harry's newer music from his sophomore album, Fine Line.  Her music is something I plan to listen to. Lewis performed for around an hour and left while the Forum staff set up for Harry's band.  The anticipation was building in the crowd as more people arrived. 
The lights went dark and an introduction played on the screens.  Flashing lights and bunnies appeared on the screen while an overhead voice prepped the crowd for Styles's appearance. The song "Golden" was introduction was corporated into the background of the presentation until Mr. Harry Styles himself rose from the stage singing Golden. I had never experienced anything like this.
Styles adorned a monochromatic black shimmer outfit with his signature suspenders.  He truly sparkled that night.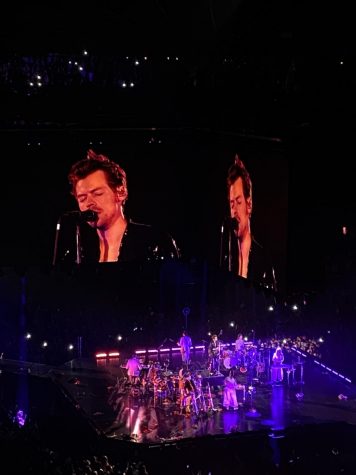 The crowd went wild, including me.  It felt unreal.  He was there.  He was not just someone I listened to or followed online.  I was so overwhelmed, but I kept singing.  I was jumping and tearing up while my mom was in awe. 
Styles danced the night away. His setlist mostly consisted of songs from Fine Line but featured a few favorites from Harry Styles.  My voice was out.  I was dancing, crying, and laughing at this man before me.  He would read fans' signs, dodge gifts being thrown onto the stage, and even help a person come out as bisexual.  Styles wore fruit-themed hats, perfect for a man who uses fruits as metaphors in his songs.
 His voice sounded just like it did on recordings.  Styles even incorporated a few note changes to his songs. 
Since these were his Los Angeles shows, Styles played his unreleased song, Medicine, which many fans had been cheering for him to play.  The lights dimmed red and I got to experience a song only 2 other shows had prior experience, New York's Harryween night one and two. 
If only his concert lasted longer.  He finished in under two hours and concert bliss radiated through my body. My mom enjoyed herself and couldn't stop laughing at my dramatic reactions as an avid Harry fan. 
Before leaving, my mom took photos of the decorations around the Forum that we skipped in the beginning because it was busy.  I couldn't stop smiling and it was clearly shown in the photos. We walked out and my dad picked us up a few blocks away. My feet hurt, but I didn't care. I felt like the luckiest person alive. 
A few days later, the usual post-concert depression crept in.  I would sit in my room watching the videos I took and blasted Harry Styles's music to remind myself of the great night I had. Honestly, I hadn't re-listened to his songs before going to the concert but got back to streaming his music. 
Although it was my second concert, it was one of the best experiences I had and I got to share it with my mom, who I forced to listen to Harry Styles until she liked him(which wasn't hard).  I would love to relive that night if I could.
Go see Harry Styles in concert next time he performs, even if you are not a huge fan.  Well…don't do that because I won't be able to buy tickets next time.