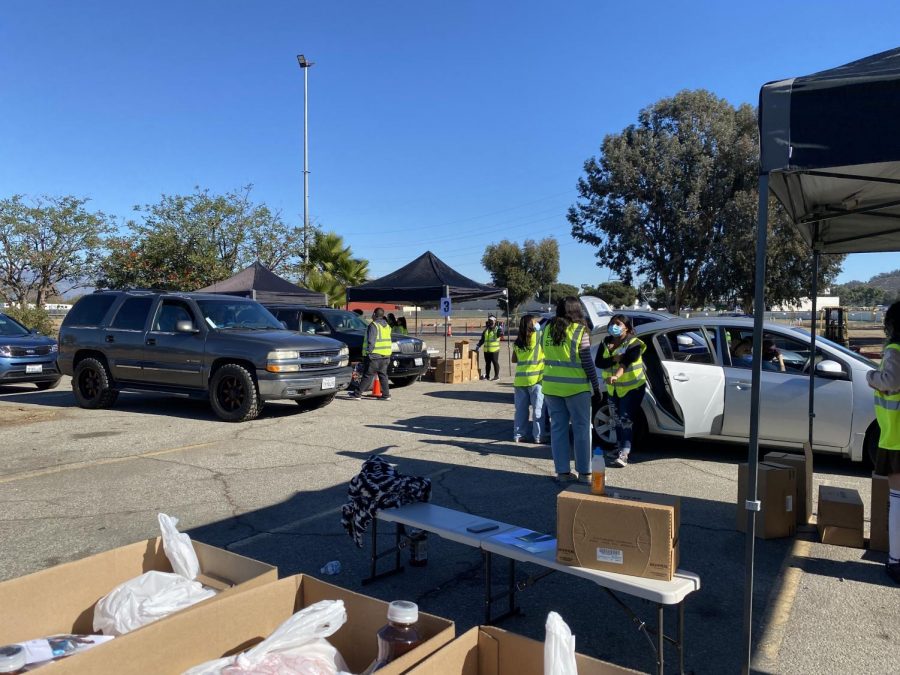 Lorelei Rojo
The Pico Rivera Holiday Drive-thru has been an annual tradition for many years and a large number of El Rancho students have taken this volunteering opportunity this year. 
The drive-thru, held at the Pico Rivera Sports Arena, was filled with students, volunteers, and even city council members pitching in to help the community. The goal of the drive-thru is to help community members who need assistance with food this holiday season. COVID has been detrimental to many households, so the drive-thru has become more important for volunteers to help out. 
Most volunteers arrived at 8 a.m. on Saturday, December 11th to sign in and begin helping the Pico Rivera City employees create boxes. Most volunteers, typically adults and city workers, arrived on site before the 8 a.m. call time for student volunteers.
Each box contained a whole frozen chicken, fifteen halos, four oranges, queso fresco, fruit pouches, tomato sauce, and vegetables. A 1.7 liter of sweet tea and canned food boxes were given to community members too.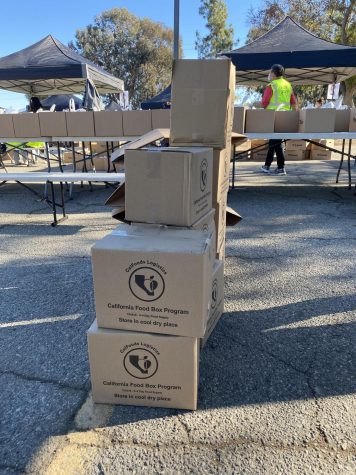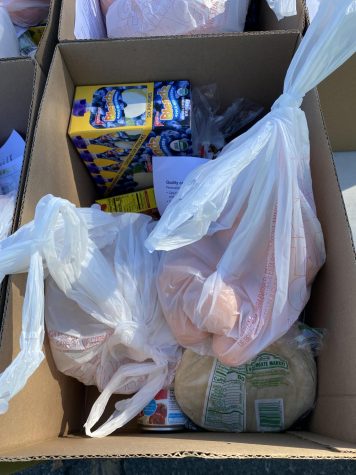 Mayor, Mr. Elias, and other council members spoke to the residents before the event began. Councilmember Erik Lutz stayed to talk to volunteers and even assisted in placing the food boxes in the trunks of peoples' cars.
Volunteers, packed in an assembly-line style, filled over a hundred boxes with supplies for holiday cooking. Four lines were sectioned off for cars to the drive-thru and open their trunks or back doors for volunteers to place their goods. Members of the community could ask for two boxes of supplies if needed. 
The outpour of student support was supplied by the AVID teachers' advertisement—Mr. Philipp Rojo and Mr. Ryan Porter being the common theme amongst students' answers. Raylene Naranjo, an AVID sophomore, wasn't a first-timer supporter of holiday events. She previously helped at the Christmas lighting in response to her AVID teacher's promotion.
Volunteering in the cold with wind is not how most students want to spend their Saturday before finals week. But the Dons stepped up and wanted to be there for others.  Senior Isais Otero said, "The community has done so much for the school that I felt like I  wanted to do the same thing back and give back."
The holiday drive-thru lasted from 10 a.m. to 12 p.m. The volunteers received cookies, juice, and pan dulce before the event started and Chick-fil-A after the event in honor of their hard work. 
Volunteers couldn't forget the satisfaction of helping others. Sophomore Johnny Rodriguez said his favorite part about helping out in the drive-thru was, "Seeing people drive away with happy faces and they are in a better mood." There were even children who waved as if they were in a parade. The children's smiling faces and bright eyes made those hours in the cold worth it.
Without the help of student and city members' assistance, this wouldn't be possible.  The drive-thru emulates the true meaning of the holiday season, to give back and be thankful for what you have.
Councilmember Lutz thanks everyone for their help, especially the students. He admires how volunteers are starting young. Lutz said, "If you are doing it already as a teenager that shows as an adult, you will grow and expand in volunteering in your community." The Dons continue to support the city's projects throughout the year, making Pico Rivera a better place to live one step at a time.