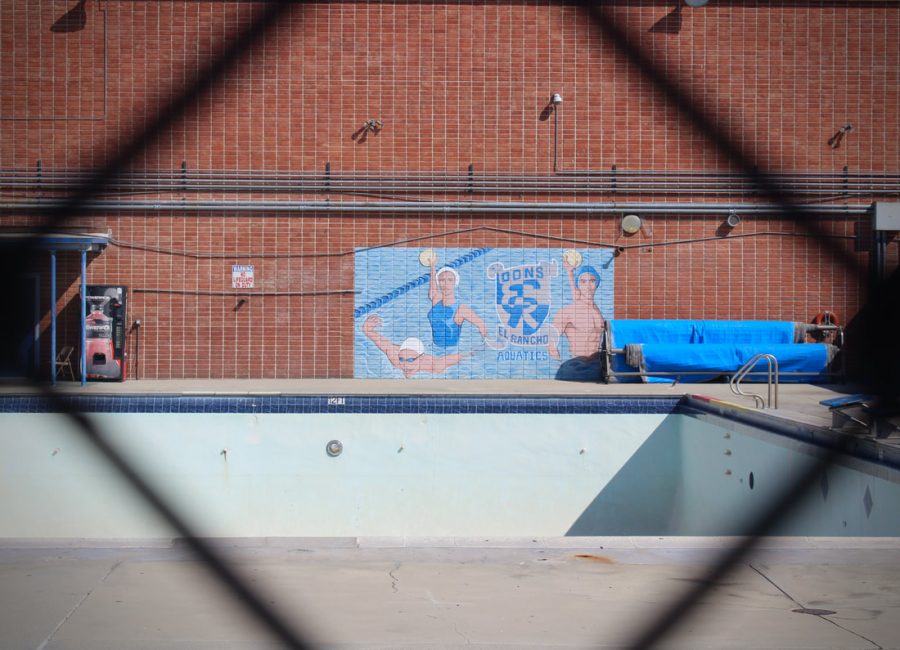 El Rancho aquatic sports aren't making a splash. 
Four different sports for El Rancho need water as its medium to compete: Boys water polo, girls water polo, Boys Swimming, and Girls Swimming. Every sport matters, but given the care and attention to the ER pool, it's what seems like a joke.
I am a junior at El Rancho and have been swimming since my freshman year. In my time at El Rancho, I have only swum in our home pool for two months. The pool was running up until the 2020 March lockdown but even before lockdown occurred, the pool had broken down before and lost the heater; occasional maintenance issues that were never permanent. 
Once the pandemic hit, the keep up for the pool was completely abandoned. Sure the pool was costing money and no one was using it. I can forgive that. What I can't seem to forgive and forget is the treatment now. We are back on campus. During distance learning, school was online, but sports were allowed. I was pushed away from the school I represent and had to travel to practice. 
During my sophomore year of high school, Pioneer became my home. We were given limited access to the pool because Pioneer was generous enough to allow our water polo and swim teams to practice. The fact that we became water nomads because the school didn't place much emphasis on renovating or at least fixing the broken parts of the pool is really disappointing.
It may not seem like a big deal to have to go to another pool, but it really is. I won't get to experience inviting friends to watch my swim meets after school because they are busy and won't want to drive far or can't get a ride. I want to be like every other sport who can have the school stop by in support of them. 
Even gaining newcomers to the sport has been taken away without our pool. PE can't use the pool for class, so students who enjoyed that section and might want to continue, lose that opportunity. If students don't see what is happening on campus, many won't be adamant to check. After all, COVID damaged the school culture by preventing us from being all together.  
 I understand that football and basketball bring in more revenue and are more exciting to others than swimming and waterpolo, but that doesn't mean it should be overlooked.
The luxury of playing high school sports is to add to the experience of camaraderie amongst the school. Students representing the ER on their swim caps conveys the love for our school and the opportunity it has given us.
Having a functioning pool at home brings our teams together. Six-period practices are no more and we have to take time out of our afternoons to go practice. Swimming during sophomore year was practice from 4:30-6:30 pm  three days of the week because we would have to wait for Pioneer to finish their practice. Currently, swimming practices from 5:00-7:00 pm at Whittier High School two times a week. 
Pools and pool maintenance cost a lot. I understand that. But we have a pool and the El Rancho Board needs to set aside money to maintain their facilities. The responsibility of having a pool is one that they need to prioritize rather than kick to the curb of Passons Blvd.
The pool has become an unwanted child desperately seeking its parent's attention. Athletes and coaches are losing hope. Struggles are placed on families trying to take their kids to practice at late hours. 
When will we get the attention football, baseball, and basketball receive?
I feel as if what I do doesn't matter. I just wanted to have fun and actually swim in high school with my friends, like everyone hopes for in water polo and swimming. Are the four sports that bring success and joy to the school not good enough to help out? 
Hopefully any help will come, so that future El Rancho students can experience what I only had for two months my freshman year.