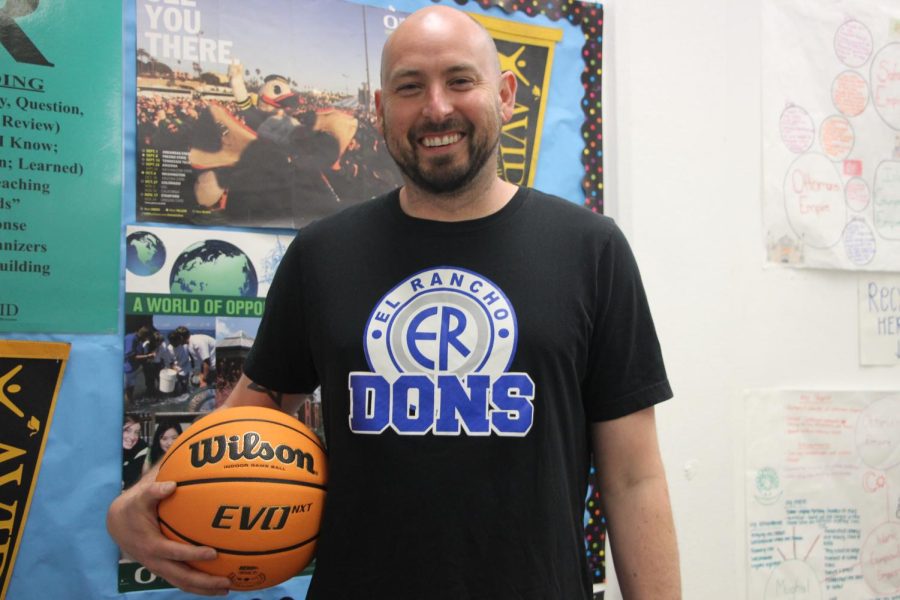 Mr. Porter is the man on campus and on the court! Porter, the former girls JV basketball coach, has now stepped into the role as the head boys varsity basketball coach. 
Porter also teaches AP World History, AVID, and IB History. He has been teaching at El Rancho for seven years but has worked as a teacher for fifteen years. Porter played basketball all four years at North Eugene High School in Eugene, Oregon.
Porter has always wanted to be a basketball coach. As he was acquiring his teaching credentials, he knew that coaching would always be the reason to become a teacher. 
Porter has now handpicked his coaching staff.  He has surrounded himself with assistants who were just as excited to push the boys to be better versions of themselves on the court: Mr. Moore, a well-known figure around the El Rancho campus, and Mr. Sanchez, Link Crew leader, as well as Mr. Porter will form the Varsity Boys coaching staff. For the junior varsity, Coach Eddie Bravo will lead and for the Freshmen, it will be Coach Hector Arevalo.
Porter wouldn't have been in the position without the guidance and support of the Girls' Basketball coaches, Coach Shigezane and Coach Afan. "I think being part of Coach Shig's program taught me a lot that I can take to the Boys' side," said Porter. "I think the more experience you have with coaching different levels, ages, and different people, the better coach you become." He is prepared thanks to his time spent working with a successful team on campus.
The new staff was announced right after the boys' basketball season finished. The news was thrown in their face, so there was the usual shock. But Porter said, "Everyone has stuck around and have been working super hard since February-March. It was an adjustment, but it felt like they[the boys] adjusted quickly. It felt like the season never really ended and we just kept rolling."
Working with girls is no different than the boys to Porter. "You still need the same commitment, the same drills, leadership, and things like that." With that, Porter is planning to keep practicing hard and building on their skills. The boys have been practicing and playing in games since early spring and plan to continue into the summer. 
Mr. Porter has strong feelings about shoes, so if you are a Nike fan, you have found a new ally at school. Porter went to the University of Oregon for his undergraduate degree (Go Ducks). If you didn't know, Nike was started by a U of O alumni. That was enough for Porter and reps Nike as if he was sponsored by them. "My favorite pair are Nike Air Max ones, and I like the Jordan 3 basketball shoes," said Porter. The team is looking at multiple options for their team shoes, but Nikes are the main target for him. 
New shoes won't ensure the Dons' victory this upcoming season, but they won't need luck. "We have a lot of potential and it feels like something new we can build upon. There are a lot of former alumni that we can access and build something that is successful and long-lasting," said Porter.   
With all the hard work and dedication Mr. Porter and the Boys in Blue have put in, they deserve to be recognized. Porter said, "We really appreciate the support and hopefully, we will see more people at our games now that restrictions have been lifted. Maybe we can fill the gym and buzz around the program and get people to participate and be a part of it."