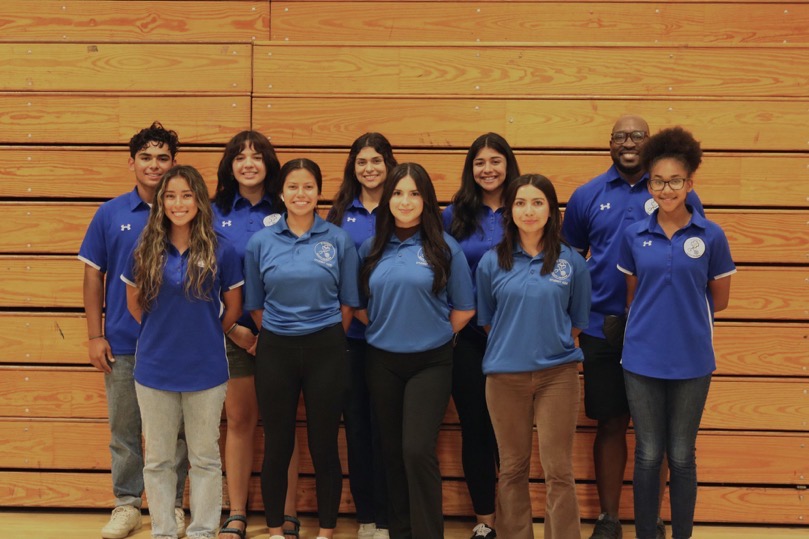 The El Rancho Sports Medicine Program is now an El Rancho Award-Winning Sports Medicine Program as they received the 1st team Safe Sports School Award. In order to achieve this award, the sports medicine program worked tirelessly to check off the long list of standards and achievements. 
The Safe Sports School Award is given by the National Athletic Trainers' Association to schools with athletic training programs that meet such high criteria and is an award for which you have to apply. Schools qualify for either 1st or 2nd Team. 1st Team awards are given to schools that have acted on all the recommended and required elements of a safe sports school and 2nd Team awards are for schools that have completed only the required elements. 
Dr. Kristen Ross and the sports medicine team received the 1st Team award after working for the award for 4 years, by setting "certain standards," Dr. Ross says, as it was one of his goals giving the district coming in; to turn this school to a safe sports school. 
Ross, the head of the Sports Medicine program, grew up in Lynwood and was raised by his mom who is a nurse. He performed poorly, and didn't stay engaged in school but was an intelligent student-athlete. He attended Cerritos College, where he learned about athletic training, played football, and ran track. He spent a lot of time with his mom at work and became familiar with the workspace.
He enjoyed being around that kind of stuff and started the Athletic Training AID Program at Cerritos. He transferred to the University of Las Vegas and earned his bachelor's degree in Athletic Training. During his senior year, he was selected by the state of Nevada to represent the state at an athletic training leadership conference in Washington D.C. 
Ross makes it clear that he's a firm believer in branching out to grow and become mature, "finding yourself," as he describes it. 
He says "it's important to get out" and "see the world," and trust me, Ross has been to places and met some pretty cool people. 
He branched out and ended up working in the NBA and the NFL before he came "home" to take his experiences and change the world. Trying to make a difference, he explains it's hard sometimes to be an athletic trainer with so many athletes and only one him. 
He graduated from UNLV, worked in the MMA, then at Disneyland as an athletic trainer there and continued to make connections. He kept going and got hired at El Rancho in the fall of 2017. 
In the summer of 2018, Ross was selected as Director of Sports Medicine for the Junior Basketball Association, LaMelo Balls' basketball league, and started the sports medicine club here on campus. Just last year, Ross earned the ROP teacher of the year award. 
Throughout the past few years at El Rancho, he has loved every moment of being able to provide support and guidance with the connections he's made. 
Ross expresses he is here for the community, not only El Rancho students, but anyone he is able to help. 
The sports medicine club gives students the opportunity to build leadership skills and learn about athletic training. Our sports medicine students compete regionally and nationally, getting hands-on experience at the same time. 
They are most deserving of this award as they have done so much to create a positive athletic health care administrative system, provided physical examinations, promoted safe and appropriate practice and competition facilities, develop injury and illness prevention strategies and so much more. The program is always looking for new members interested in the sport's field of medicine. See Dr. Ross in the classroom in the gym for more information, or email him at [email protected].