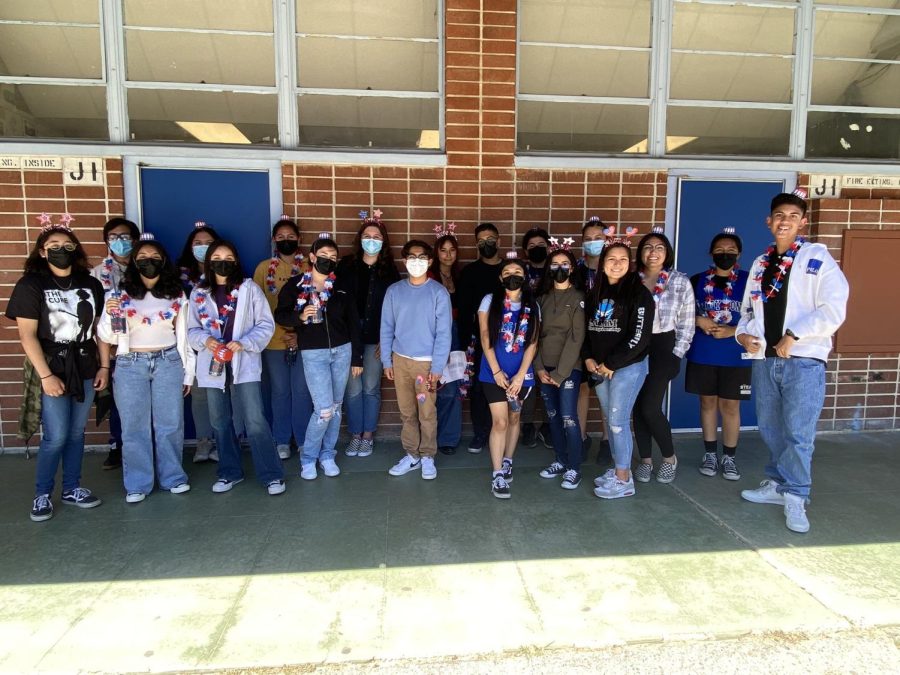 The Academic Decathlon team says goodbye to their seniors and welcomes in the newest batch of decathletes. The 2022-2023 team was nominated by the 2021-2022 team members but was finally selected by the advisors, Mr. Melgar, and Mr. Francis. 
The 2022-2023 theme is "The American Revolution and the New Nation." Traditionally members of the Academic Decathlon take out the newest members and parade them with gifts pertaining to the theme. Because of COVID-19, this tradition has been lost for the past two years but was brought back this year.
Red, White, and Blue themed items like a bottle filled with candies, flower leis, and Uncle Sam mini hats provided by Mr. Melgar. 
Thirteen members were surprised during sixth period, but a total of fifteen students are new to the program. 
Although all the new members knew their chances of joining the team were high, the surprises were still genuine. Present members awarded the newbies with their prizes and cheered in their honor. 
Junior Argentina Segovia said, "I was very excited when the entire Decathlon team was waiting for me outside. I enjoyed the little gifts and I found it very cool that every new member walked around with the others to surprise the new students." Segovia was one of the first members to be surprised and helped surprise her fellow new classmates.
The newest members of the Academic Decathlon members are Lorena Ramirez, Argentina Segovia, Marco Esquivel Jr, Manuel Navarro, Eduardo Hernandez, Sarah Lugo, Guillermo Lemus, Stephanie Alfaro, Sierra Uribe, Jonathan Avalos, Regina Avila, Ashley Corrales, Maya Elias, Sherly Luis, Miguel Ignacia, and Alessandro Franco.
To be chosen to join the Academic Decathlon team is a big deal because very few students are accepted. The community built between the members of the team is crucial to the success of the team. This surprise is only the start of the 2022-2023 team becoming closer.
Ramirez said, "I am looking forward to being able to work in a team and be able to contribute all throughout the year!"
The introduction of sophomores to the team continues this year with four more instead of the two brought in this last year.
Lorelei Rojo, Hailey Navarro, Carolina Moore, Ashley Torres, and Giovanni Cabrera are returning members.
The team plans to work together this summer in preparation for next year's competition. The Academic Decathlon team's goal for next year is to place in the top five in the County competition—best of luck to the team with their newest members.