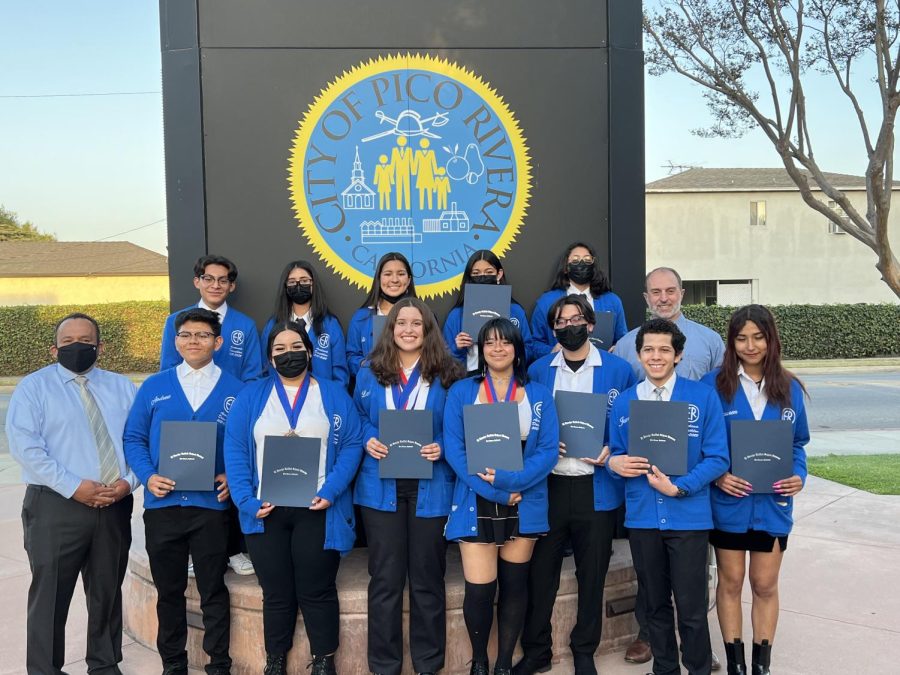 The El Rancho Unified School District held its board meeting on Tuesday, May 17th with special guests: The ERHS Academic Decathlon team.
The Board brought out the decathletes to shake hands with each of the board members. The decathletes were honored with a certificate from the Board of Education. Twelve out of the fourteen members were present at the meeting.
Last January, the Academic Decathlon team placed 7th in the LA County Academic Decathlon competition. The team even qualified for the State competition and brought home some medals, prompting this celebration.
"Being honored by the board members, including the Superintendent, felt like a dream," said Carolina Moore, a first-time Academic Decathlon member. "As a junior, I never thought this would happen to me as the city board supported us throughout the year." The Board of Education was a tremendous help to the team during their preparations. Board members helped the team practice their interview and speech skills over a Zoom meeting.
The Board also recognized the elementary students who read over a million words in the past year before the introduction of the decathletes. The future scholars of the El Rancho School District saw a glimpse of what may be in their future.
In the LA county competition, the team competed in the highest division, Division I, and brought home nine medals. The team traveled to their awards ceremony in late April.
Mia Calvillo, Christian Acosta-De la Rosa, and Lorelei Rojo earned medals in the Essay competition with Calvillo earning Silver and Acosta-De la Rosa and Rojo earning Bronze.
In the Speech category, Senior Juliza Molina and Junior Lorelei Rojo earned Silver. The duo continued this medal streak with their Gold in Interview. Both decathletes earned a 980 out of 1000 points. Luz Ayala similarly earned 980 points out of 1000 with her Speech, earning her a Gold medal.
Rojo earned the spot of the top scorer for the ERHS Decathlon team at both the county level and the state level.
In the state competition, two members earned an individual medal. Ariadne Aquino earned a Silver medal in Economics and Molina earned a Gold in Interview, with the highest score in the division with a 990 out of 1000 points.
The El Rancho Academic Decathlon team hopes to earn more medals and place in the top five in the county competition and make it to the state competition for the next year. Best of luck to the team and this recognition will push them to do even better.