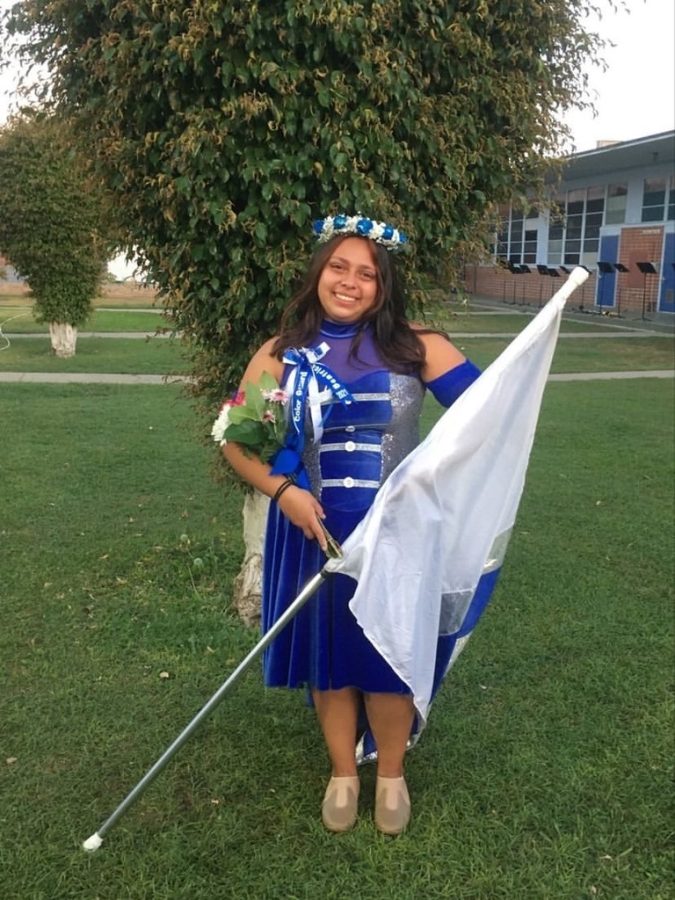 Beatrice Leon is a senior at "The Ranch" best known for her caring nature and involvement in Color guard where she gets to show her passion for performing and letting loose.
Leon joined color guard during her freshman year with confusion about what color guard was or what the requirements were because there wasn't enough information, but it was still something that interested her.
Leon has been a color guard member now for all four years and she's really glad she joined because color guard performances and practices are some of her favorite memories through the years because those are the times where she gets to hang with friends and be herself while having fun.
One of the best experiences Leon has in the color guard was their trip to Vegas. "I think the best experience would have to be probably going to Vegas and just hanging out with the guards. We went to Vegas for our competition. I think it was the week before we went off due to Covid and we ended up getting 2nd place overall throughout."
The people and connections she has made through color guard was why she has spent all four of her years in the program. It gave her a time and place where she can let loose, blow off steam, and be herself more.
For those who are thinking of joining color guard, Leon said to just be comfortable doing the choreography in front of people. "Know that when you perform, you'll never see those people again so just go all out, perform your heart out. Don't get in your head too much because it can happen a lot," said Leon. 
Leon is also involved in the Boy's & Girl's Club, but can't always put everything in as much as she would want to be due to color guard taking a lot of time out of her day after school. She said "Our practices last for hours sometimes till 8 at night."
Leon also said, "I would definitely recommend color guard to future Dons but that they just need to trust themselves in the beginning and know that you're gonna have to push yourself to be comfortable around other people." Everyone is very welcoming so it is not that hard. "I was shy when I had started but now I have gained confidence through performing."
Leon also has had solos in the performances where she got to showcase her abilities to perform and those were really special moments in all her four years of being in color guard.
Senior year has changed the way she has experienced her last year because she now has to think about the end of color guard as well as what is next for her, as she will be attending Cal State LA university where she'll be majoring in biology. Some fears she has about this is she doesn't know what life is gonna be like without the Ranch and she doesn't feel like an adult yet. One thing she is excited about after high school is being able to grow as a person and leave to learn to fend for herself.
One thing high school has taught her is to always try her hardest because having due dates for assignments showed her there are no go-backs and that instilled discipline in her mindset.