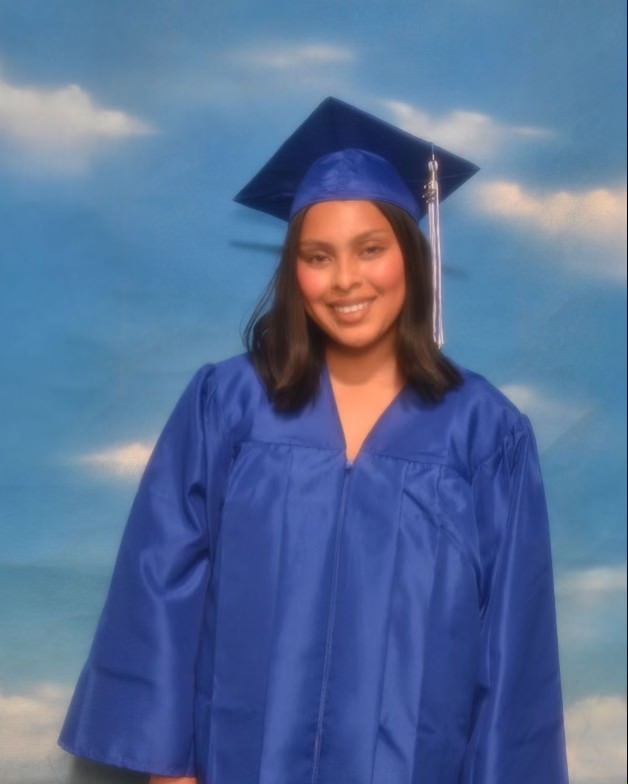 The El Rodeo Senior Staff members say their final goodbyes in the Staff farewells. This tradition started in the print edition, but won't die out with the class of 2022. Congratulations to the graduating class!
Senior Sierra Covarrubias
It's a bittersweet moment calling it the end of my high school years. It has made an impact on my life that I will never forget. What a rollercoaster of emotions that I have experienced through this thing called school. Although school is not perfect, I will still be grateful for all that it has taught me. I will also mourn journalism class because of the funny random chisme talks, Zeko's random word splurges, and words on the streets with random kids giving me awkward stares. I'll miss it all because it was so random which really made me get into this class. I will also miss my Chipotle buddy Gizel. We have had a great connection since we were in class sitting next to each other the whole year making podcasts going off-topic all the time. It was a great time. Also sharing snacks and watching random youtube videos. Journalism has increased my confidence in a way where I am more open to saying my ideas and thoughts but also more confident in talking to people I don't know and starting conversation due to going out recording TikToks and Word on the streets. It was stressful but fun. Overall my high school experience and time spent in class were sometimes really boring or sometimes really fun. I enjoyed the Netflix documentaries in Mr. Phan's class, getting on Mr. Calientes' nerves with my math buddies, joking around with Mr. Elias, and using too much paint in Mr. Diaz's class. It all was such a good time that will be missed. I also appreciate all the teachers I have come across in all my school years. I have taken something from everyone in my life but mostly high school because they have seen me grow the most. Lastly, I wanna say goodbye to the Ranch. Thank you for being a playground of experiences where I experienced so much laughter, frustration, and lessons, and where I also found my best friends. Thank you for being a stepping stone for the rest of my life. Now it's on to another journey but still remembering, once a Don, always a Don.
Senior Yaileen Ramos
From the day I became a Don, I had one thing on my mind.
I had to have a leave knowing I did something extraordinary.
My first year on the staff has brought me incredible opportunities and happiness. One of our editors Leilani Patino is the reason I began writing and I thank her for giving me this opportunity to grow and find my purpose. Patino you will always be my best friend and confidant. Another person who has given me a huge part of my success is Lorelei Rojo. I love Rojo so much we have grown to be the closest inseparable things ever. Doing anything with you is the most fun ever. Cheers
to many more juice boxes and a million more dance parties. I love u so much!!!
I've learned to work 10x harder than anyone in the room, to find the light in a dark room and to be okay with the quiet-and so much more.
I've accumulated all of that knowledge over four years, man.
It really just blows my mind. That's the best way I can put it. I'm incredibly grateful for all the relationships, everything I've had in Pico Rivera.
But to my city of L.A., thank you for allowing me to explore my horizons and seek the truest form of art in other places.
And I guess what I really want to say is thank you, from the bottom of my heart — to Zeko, all my staff members, every part of the organization, the entire city of Pico Rivera Thanks for making these past four years everything that they were to me.
Thanks for letting me be my own small part of this great legacy.
That's what's truly been special about these four years. These are those rocky, early adult years where you're kind of an adult, kind of not. And so everybody who's been a part of my time here has watched me go through that. A lot of ups and downs and really just…. growth. I've had a chance to learn how to think beyond the individual, and become someone that can help bring honor back to El Rodeo. That takes a certain kind of evolution and sacrifice.
And I don't take it for granted for a second.
So thank you, El Rodeo , for supporting me. For being my #1 fan. For sticking with me through the setbacks. For everything.
Like I said, I'm so grateful. And also….. one other thing.
I'm proud as hell.
Once a Don, always a Don.
Senior Karla Lezama
These last four years have been some of the greatest years of my life. Being in journalism for one year and being known as "el rodeo" changed my life for the better. I was able to grow my communication skills and think outside the box. It challenged me to have fun and talk to everyone during my last year at El Rancho. The teachers who made this possible including Mr. Zeko, Mr. Magdaleno, Ms. Kim, and Ms. K all made me the woman I am today. I want to thank my beautiful family for always being there for me and for pushing me to exceed my limits even if I did get a lesson every now and then from my dad. Thanks, dad. To my mom who listened to my problems and gave me life advice on how to better myself and be a strong independent woman. She always told me to never give up and to attract, not chase. My sisters have been there for me through everything and continue to do so. My amazing friends were there for me when I was at my lowest and they didn't even know. As I now set forth on this new journey of mine, I reminisce on all the positive moments that I created in high school. I will for sure miss making posters in the ASB room and making Youtube videos with my friends. Everything that I ever did in high school, I did it for me. There were times when I wanted to give up, but I continued to push forward and saw it through to the end. I now leave the future classes with a few pieces of advice. Go out, make new friends, talk to everyone, go to every dance, ask out a jock to a dance, go by yourself, dance by yourself, but most importantly, take care of yourself. If you need a break, take one. Become the version of yourself that you were afraid to see. Thank you El Rancho for all the good and bad memories you have given me for life. Thank you ASB for pushing my limits and for standing up for myself and to take charge every once in a while. Peace El Rancho. You were good to me and real. See you when I'm famous!! With Love, Karla Lezama
Senior Co-editor in chief Leilani Patino
The soft really don't make it in life. My dad was right.
I wouldn't be able to describe what my four years here at The Ranch were like but I can say, if I had the chance to stay forever, I would. The years flew by, and were full of so many emotions, memories, and accomplishments. I made a name for myself, as this year's co-editor in chief and ASB Athletics Commissioner. The drive and determination came from my dad, who was my rock and my best friend. None of this would have happened if I didn't come to El Rancho to be with him everyday. I seen the fight in my dad, and the hunger to be different. He made a name for himself and was truly "The Man," who had IT. I worked so hard this school year to do become the greatest. I feel as if I made a mark at El Rancho with all the tears, frustration, and rapid heart rates, I'll continue to make a mark "one person at a time."
I've enjoyed every moment of this school year, and I have to say senior year was my favorite year of high school. Thank you to Mrs. Senteno-Tapia, Mr. M, Mr. Retana, Mr. Sauceda, Mrs. Martinez, Mr. Goyenaga, Mrs. Leal, Mr. and Mrs. Zeko, and Coaches Rich, Ruben, Zay, and Kevin. I love you guys and thank you guys for everything.
I'm extremely thankful for all the blessings God has given me this year! But here's to the next chapter of my life. To the class of 2022, we've made it this far let's keep working. The strong only survive cause the strong do or die! #PATINO