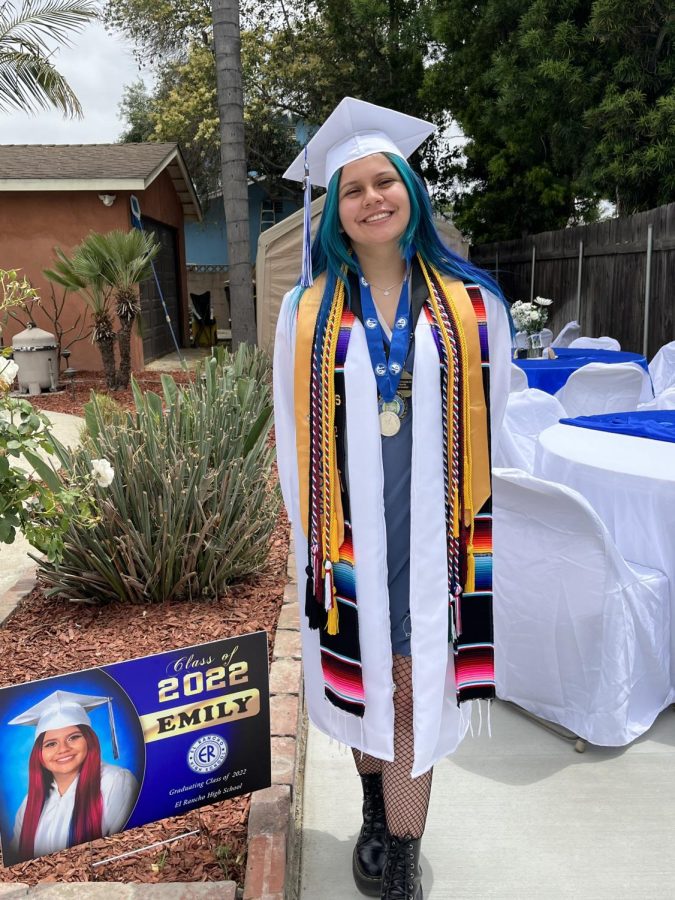 Senior Emily Perez-Medina is a woman of many talents! She served as president of the LEOs club, vice president of the Math Club, member of the Folklorico club, and peer advisor in the College and Career Center. She has also earned the number one spot as valedictorian of the Class of 2022. 
Perez-Medina says she's always thought being valedictorian as something that only happened in the movies until she was recognized as valedictorian in middle school. Since then, she's aimed to be a better student daily to become valedictorian in high school. She feels excited to have the opportunity and title to become valedictorian for the class of 2022 because it's something she's worked hard for even through tumultuous distance learning.
Perez-Medina has worked hard daily to earn valedictorian. She is an IB full diploma student who additionally took AP, honor classes, and PLTW in biomedical for two years. Perez-Medina said, "I made sure to show up to my classes daily and get all the work done to the best of my ability which led to becoming valedictorian." 
It is not easy to be valedictorian. One of her biggest challenges in aiming and pushing to be valedictorian was sticking to her dedication. "If you lose the dedication you have to your academics, you could lose motivation," said Perez-Medina. 
During these past four years, Perez- Medina has said her biggest support system has come from her mom. "When people were calling me crazy for skipping summer activities to do the Escalante program for two consecutive summers, my mom was the one who had my back and helped me stay motivated even when I was struggling," said Perez-Medina. The Escalante program is a month-long math program where students are taught a whole year's worth of math. It is a very intensive program that requires a lot of time and focus.
Another person who had made a big impact on her life was Mr. Francis. He's always pushed her to exceed in her talents and education and has given her the motivation to continue to keep her straight A's. 
Perez-Medina knows how difficult it was to get to the position she is today. "My advice to anyone whose goal is to become next year's valedictorian is to be yourself and push yourself to do better, but don't push too hard. If it's something you want, you can achieve it by working to your potential." She believes that you should never be afraid to ask questions whether it's to a teacher or a peer. Without doing so, she wouldn't be able to be where she is today.
Outside of her intense school life, Perez-Medina enjoys spending time with friends, family, pets, and her boyfriend most of all. She has always had a special place in her heart for art ever since she was little. During quarantine, she expanded on her childhood love when she found a passion for painting. She has taken this quarantine habit and continues to learn new ways to create art with acrylic, water painting, and spray painting. 
Emily found upcycling her clothing as another way to bring art into her life. Upcycling is when you repurpose the clothing you have by adding or taking away material to create a new piece. She finds her clothing from thrift stores and likes to tie-dye and cut her clothing to fit her style.
Perez- Medina's future goal is to become a medical examiner in the forensics/crime scene investigation field. She applied to thirteen colleges and was accepted into ten colleges; Cal State LA, Cal State Long Beach, Cal State Dominguez Hills, UCLA, UC Davis, UC Irvine, UC San Diego, Whittier College, USC, and Maryville University in St. Louis. She also got waitlisted at John Hopkins University. 
She will be attending Whittier College to stay closer to home and use the scholarships for her outstanding academic achievements and leadership. She's looking forward to the good foundation of education at Whittier College until she transfers to a university to further pursue her passion of becoming a medical examiner. 
El Rancho has left a major impact on Perez-Medina these past four years. "The comfort and community feeling of being at school along with the balance of fun activities," said Perez-Medina. She regrets not getting into school activities sooner. Before her senior year, she attended very few school events and advises the underclassmen to be involved and to have a high school experience and not wait till the last minute to make memories that'll last a lifetime!