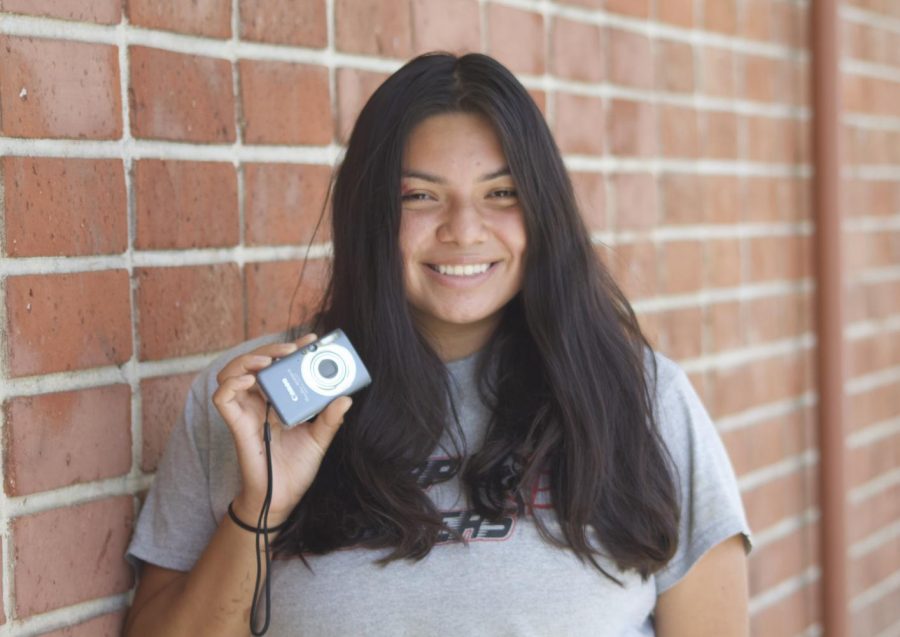 Meet the face behind El Rancho's favorite photo account @cilantroscamera
September 23, 2021
Senior Citlali Antonio, number 7 on the water polo team, is known for her popular Instagram photo account. With 377 followers, Antonio's appeal to students has exponentially increased during this first month of school.
Antonio is a vibrant member of the El Rancho community who can be seen at football games, Night Pep Rally Skit practice, water polo practice, swim practice, and out in the quad.
Originally starting out as a fun side hobby, Antonio started her Instagram account back in May of 2021. She started it after purchasing a digital camera
With her hobby cemented into her daily routine, Antonio posted throughout the summer with her friends. Returning to campus made this hobby more exciting after 18 months of distance learning.
"I wanted to bring my camera to document my senior year since we really didn't have a sophomore year or junior year," said Antonio. Half of her high school experience was remote and this year allowed for a fresh start on documenting memories.
This documentation of high school life, especially senior year, has become a hot trend to follow. "Dump" accounts or Instagram accounts are used primarily to post all the pictures taken from film cameras or older digital cameras. Antonio's account became the spotlight account for this school year.
"I never meant for it to become popular amongst the El Rancho community. I started taking pictures of my friends during the summer and just started posting them on Instagram. It was a way of documenting our summer," Antonio said. 
Never in her wildest dreams would her account blow up within the community. Her follower count grows daily and will not stop for anyone.
Her famous palm-sized blue camera is an old Canon PowerShot SD 1200 IS. To send out the pictures she takes during the day, she sends them through iMessage because most of the people she takes pictures of are her friends. If she doesn't know the people she takes pictures of, she said "I ask them to DM me through the account and I will send them through there."
She also takes other peoples' privacy very seriously. She said, "I ask the people in the photo if they are okay with me posting it and just post it." Her account is known to be fun and she doesn't want someone upset that they didn't like the picture she took. 
With this newfound spotlight, Antonio is thankful for the opportunity. She said, "I just hope everyone is enjoying the pictures. I have a blast sending out pictures and also meeting new people from it." 
Although the account was meant for her and her friends, Antonio loves meeting people she wouldn't have gotten the opportunity to chat with. 
The El Rancho v. Montebello varsity football game was one of Antonio's favorite moments. She said, "Everyone was showing their school spirit by coming out in neon. I was able to take a group picture of the student section." Events like football games or everyday life are documented through her photo account.
Antonio posts on other platforms as well. "I will continue to take pictures and publish videos at the end of each month on Youtube." Her Youtube channel is Citiali Antonio if you plan to subscribe.
Make sure to follow @cilantroscamera to experience Antonio's senior year and maybe spot some people you know. Antonio is always about campus, so be on the lookout for a small blue camera capturing the lasting moments of the 2021-2022 school year.