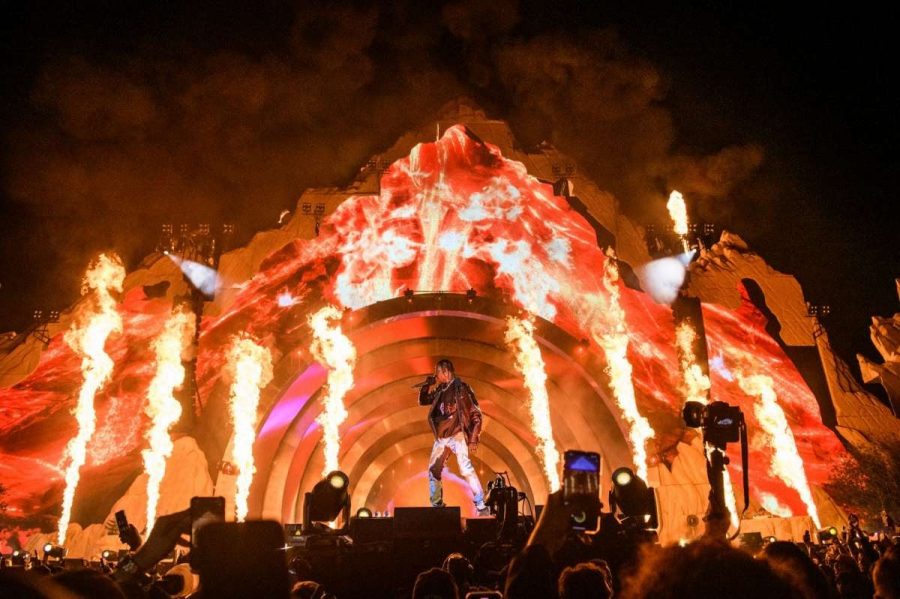 Opinion: Travis Scott is to blame for the Astroworld tradegy
November 16, 2021
Travis Scott made some very selfish and inconsiderate decisions in his most recent event that ended up killing nine people. On November 5, in Houston Texas, the long-awaited Travis Scott Astroworld Festival was held. Nine people lost their lives and many more ended up injured because of the lack of care from the artist to his fans.
As soon as the event started, the crowd was already out of control as they brought down one of the fences in a rush to get in. It was so chaotic that security could not stop anyone. More than forty thousand people attended. 
At the beginning of the show when Travis Scott came out, the crowd was less chaotic. But as the night went on, people started to become more energetic and began to push forward; causing people to be pushed against each other so tightly that people were not able to breathe and people were getting lost under the crowd and got stepped on and crushed by everyone.  A lot of people decided to get out of the crowd before it got worse, but some weren't that lucky.
It seems as though the section closest to the stage was the most dangerous place to be at. A lot of people from farther back were coming out with statements that they did not know what was going on until they got home and saw it all over social media.
Travis Scott did not try to stop the concert but it does seem like he got help from a small number of people. He did not stop the concert even after so many people were asking for help. That was a selfish act that ended up costing people's lives. 
After the horrible night, eight people lost their lives and hundreds were injured. Recently, the number of deaths sadly went up by one.  
Alex Acosta Avila is one of the victims whose life was taken away at only 21 years old. Danish Baig, 27,  passed away trying to keep his fiancée safe from the crowd. Ezra Blount, the youngest victim, lost his life at nine years old. Madison Dubiski was 23. John Hilgert was a 14-year-old freshman in high school. Jacob Jurinek was 20. Franco Patino was 21. Rodolfo Peña was a 23-year-old college student. Brianna Rodriguez a 16-year-old junior in high school. Bharti Shahai was 22.
It's very sad to think that these innocent people were just trying to have fun and that families were waiting for their loved ones to come back home.  But sadly for 9 families that was not the case; all because of the lack of care from the singer. 
This could have been prevented if Travis Scott had just stopped the show to make sure that his fans were doing ok and received the help they needed.  May the victims rest in peace.