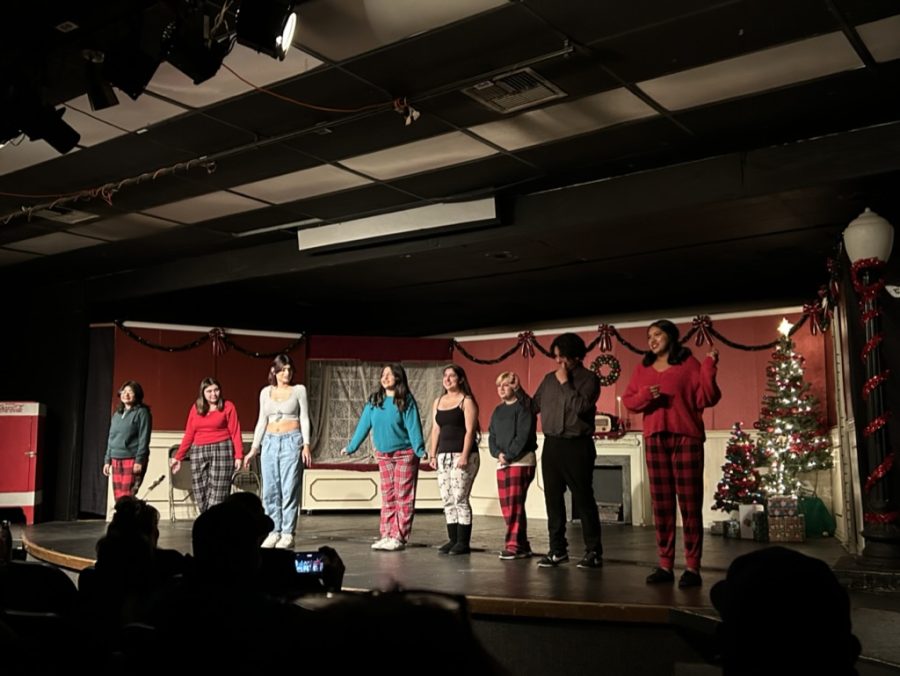 The Christmas Cabaret brings Christmas spirit to El Rancho
El Rancho's drama class brought the most hilarious and heartwarming performances to the Little Theater on December 8th and 9th. The Christmas Cabaret consisted of plays, songs, dances, and improv skits. 
While watching you could see the enthusiasm and excitement of the performers from the audience. They were indeed in their element. 
"A Miracle in Pico Rivera" written and directed by Senior Diego Trujillo told the story of a family whose house had been broken into on Christmas. To their surprise, they were accompanied by a variety of different people who had each brought a little something to save their Christmas dinner! A beautiful message of how even bad situations can bring people together when we help one another. 
Trujillo said, "My favorite part was everyone coming together and relying on one another. The most difficult part was the minor setback of recasting because certain cast members had gotten sick, but our replacements did amazing and I wouldn't have it any other way."
According to the cast, there were some minor setbacks due to cast members getting sick and needing replacements. Even though they ran into some problems they were all able to pull it off and work together.  
Junior Solimar Ramos said, "My favorite part was learning new lines, dances, and techniques with my peers. The most difficult part was choreographing because of the different paces for each person. I think the show was really good because everyone pulled through and did their part."
They sang and danced to songs such as "Jingle Bell Rock", "What's this?" from A Nightmare Before Christmas, and "What Christmas Means".  
Senior Michelle Uribe said, "My favorite part was the "Jingle Bell Rock" dance. Being able to choreograph was really fun. The most difficult part was the skit because one of the leads got sick but in the end, it went really well and turned out great."
The audience also got to be involved throughout the Cabaret. For the skit, each improv member shared one line that matched the place selected by the audience, and each round they had to say the same line as a different character.
At the end of the Cabaret, the audience was invited to participate in a Holiday Sing-Along. 
Drama Teacher Leticia Vejarano said, "I loved seeing all of the kids work together and have fun. The time restrictions were the most difficult part, but I work with an amazing group of kids who put have put a lot of time and effort into the show."
The Christmas Cabaret was a well-done performance put on by El Rancho's drama class–and hopefully a show everyone enjoyed.