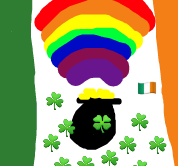 History of St. Patrick's Day
St. Patrick's Day is celebrated on March 17th and commemorates the arrival of Christianity to Ireland and Saint Patrick. It also mainly celebrates the culture and heritage of the Irish. Some of the most popular symbols of St. Patrick's Day are shamrocks/clovers, the color green, leprechauns, and rainbows.
St. Patrick's Day was created when the Church established a Feast Day to honor St. Patrick in 1631. He was the Patron Saint of Ireland and died around the fifth century. It was celebrated originally in Ireland with feasts and religious ceremonies. When Irish immigrants migrated to the United States, they brought the tradition of St. Patrick's Day. The day later evolved into a celebration of Irish culture in the United States.
There are many reasons why we wear green on St. Patrick's Day. One is that it is a color on the flag of Ireland and another reason is that the nickname of Ireland is the Emerald Isle. According to a tradition, leprechauns liked to pinch anyone they saw, but wearing green on St. Patrick's Day supposedly made you invisible to them.
Rainbows are associated with St. Patrick's Day because St. Patrick viewed rainbows as a representation of God's promise to never destroy the Earth with floods again. They are also associated with the myth that leprechauns hide their pots of gold at the end of them.
The three-leaf clover is a symbol of St. Patrick's Day because according to Catholics, St. Patrick used a thee-leaf clover to explain the mystery of the Holy Trinity to the Irish people in order to convert them to Christianity. The four-leafed clover is also a symbol of St. Patrick's day and represents luck because of how hard it is to find.