Opinion: ASB students need to follow through on their commitments
When you give people multiple chances, they tend to walk over you without giving you credit for your hard work. Entering senior year with a leadership position in ASB and later being given the title of Historian, has made me realize that everyone is equal but you have to fight your own battles. There are over 40 students in ASB and out of them all, the ones that do the most work tend to be the ones in leadership.
Being in ASB for one year has made me see people's true colors. There isn't stable communication between the students and some staff members. The majority of the time, students clash with each other, which frustrates those who want to get work done and be prepared.
Ruth Bader Ginsberg once said "fight for the things that you care about but do it in a way that will lead others to join you" and that's what I accomplish being a leader; not a follower. 
At the end of the first semester, I knew that my senior year was going to go by fast. Due to this, I wanted to bring back a traditional dance that was canceled because of Covid, Sadie's. When I had first announced that I wanted Sadie's to happen, many students were quick to turn down my idea. I constantly mentioned it during meetings and tried to change their minds. I then created a slideshow to present to my class and got most students on board.
When everything was set into place, Activities Commissioner, Jasmin Leon, helped me plan everything from there. We began to look up decorations, get food and desserts, a photo booth, and find a DJ. We had everything planned and our ideas were quickly shut down by another student and office staff member. They didn't believe that we could get over 100 students to attend and pay for the cost of everything.
We were distraught and felt helpless. In order to raise these funds to get everything we wanted at Sadie's, we had a Cane's fundraiser. Although this wasn't enough, our plans still got canceled. We were taken off the whole project and were only asked to just take care of the decorations. Personally, I felt that I was just being used which isn't anything new because that's what happens when you play nice all the time.
I give people the energy that I want to be treated with but never get that same energy in return. Leon and I were slowly giving up and when we came back from spring break, we were asked what was going to happen. We were clueless because we didn't know anything at that point. Our advisor also didn't know we were taken off and then put us back on the committee to get everything we could to make the dance happen.
At this time, we had 10 days to prepare. I started to buy decorations with a small budget. I had noticed that there are never really any decorations that highlight what the theme is of the dance at the dances that we've already had. I wanted to be different, so my mom, sister, and I stayed up late two nights in a row to make centerpieces. I was also able to make the banner that hung near the DJ, and the balloon arch where students were able to take pictures.
Included, we were able to get free dessert from senior Edgar Morales, who has his own business, @leslys.strawberries.more.
I was able to make everything work with a small budget and doubtful staff/students who still wanted to cancel the dance. One thing I'll never forget is when students in ASB voted to cancel Sadie's. I knew that I could make this happen within a week and get more students to come. With the help of those who actually wanted it to happen, we had lunch rallies to promote Sadie's. It was successful because we brought in more ticket sales and reached the student count we wanted.
I'm not one to forgive and forget, but I'm one to move forward and continue to get up every day and be positive. Even though I got frustrated the day of the dance, I got my work done and, personally, had one of the best decorations I've seen at this school so far. I believe that if you put your best work forward, you'll be rewarded. I don't take anything personally anymore because that's not a battle I want to fight with myself. 
I'm so used to the hate and negativity that I've turned it into a lesson that haters are going to hate and stay at the same level they're at. J. Cole once said, "fool me one time, shame on you." I want to give a big thank you to everyone who stuck by me and enforced Sadie's to happen. I also want to thank myself, not only for getting the job done but for not giving up when everyone already was. To end, trust no one, take credit for your work, and remember if you want something, go out there and prove who you are to make it happen.
View Comments (3)
Your donation will support the student journalists of El Rancho High School. Your contribution will allow us to purchase equipment and cover our annual website hosting costs.
About the Contributor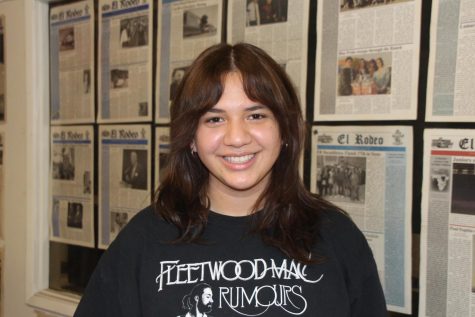 Karla Lezama, Staff Writer
My name is Karla Lezama and this is my first semester in Journalism. I enjoy traveling, cooking, filming and editing videos, and listening to music. I...