Bumpy road lies ahead for the defending champs
On March 20, the Los Angeles Lakers faced the Atlanta Hawks at Staples Center, a game in which LeBron James would suffer injury. Lebron James suffered a right ankle injury during the first half of the contest. After LeBron left the court to get his ankle evaluated, the Lakers went on to lose the matchup 99-94. The Lakers are now without both of their superstars which raises the question, how will the Lakers fare without their best players?  Does the likelihood of winning back-to-back championships remain a possibility? 
Since both LeBron and Anthony Davis are out with injury Lakers players should view this as an opportunity to step up and have that "next man up mentality"
as point guard Dennis Schroder said on a videoconference after finishing with 16 points, seven rebounds, and four assists. 
The road ahead is an opportunity for players to take on a bigger role and create better chemistry with their teammates which will be needed come playoff time.
The loss of James for the foreseeable future is obviously a big blow to L.A. The Lakers are already without All-Star forward Anthony Davis due to a calf strain in his right leg. 
The Lakers are in the midst of a tight battle for postseason positioning in the Western Conference. The Lakers currently sit third in the West, but they're only two games ahead of the fourth-seeded Clippers and just 2.5 games ahead of the Portland Trail Blazers, who are in the sixth spot. Without their two best players, it will be difficult for the Lakers to maintain their spot in the standings.
 It's tough to tell exactly how many games James will miss at this point, but it's safe to say that the Lakers will be exceedingly cautious when it comes to the reigning Finals MVP. After all, the most important thing for L.A. is that James is healthy for postseason play. 
I believe since the Lakers are short-handed for the time being this will cause the Lakers to make a move before Thursday's trade deadline. Whether it's a complete overhaul or just a few minor cosmetic changes, NBA teams will scramble between now and Thursday's trade deadline to make a move or several to put their franchise in the best position possible. 
Lastly, I firmly believe that the trade deadline will take on extra significance for the Philadelphia 76ers and Los Angeles Lakers, both of which will be without their respective MVP candidates Joel Embiid and LeBron James for a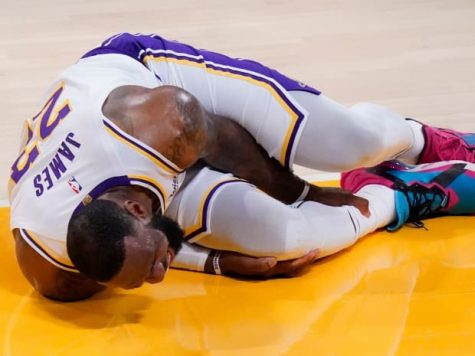 significant time. While the Sixers stayed afloat with a solid week despite Embiid's absence, the Lakers expectedly struggled without James and Anthony Davis and will continue to fall in the power rankings as a result.