Class of 2021 Graduation Ceremony Approved to have in-person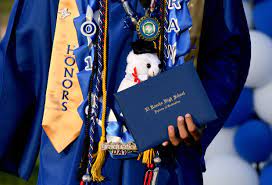 El Rancho Unified School District was pleased to announce the approval of an in-person graduation ceremony that will be held in June. 
Class of 2021 Elementary and Middle Schools culminations will also be held in person!
While families and graduates can celebrate in person, capacity will be limited, and health and safety measures will also be followed. 
With this exciting news, El Rancho Seniors will finally have a commencement to look forward to after 4 four years of hard work while (run-on) having their whole final year placed through distance learning online (run-on/awkward with no usual senior activities involved. They will be able to walk and be celebrated by having a traditional ceremony at El Rancho's Dons Memorial Stadium.
More information regarding the capacity and ceremony logistics will be, coming soon!