Israel-Palestine Conflict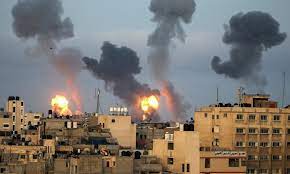 This whole situation concerning Israel and Palestine is saddening, in my view, and I believe others will agree. At least 53 people have been killed in Gaza since the offensive started late Monday, according to the health ministry, including 14 girls. More than 300 people have been injured.
It's incredible that this circumstance has taken place; in moments like this, journalism and television are critical for keeping us informed on global events. According to the Israeli army, some 1,500 rockets were launched from Gaza into Israel, killing at least six Israelis. The escalation is the most severe since Israel's seven-week assault on Gaza in 2014.
Several factors contributed to the altercations between Israel and Palestine.
One of the factors is Sheikh Jarrah expulsions. Anger has been growing over the forced expulsion of Palestinian families from the occupied East Jerusalem neighbourhood of Sheikh Jarrah, who have been facing multiple court cases filed against them by several pro-settler organisations since 1972.
Clashes and attacks on the Al-Aqsa compound is another reason for the altercation. On the final Friday of Ramadan, tens of thousands of Muslim worshippers flocked to the Al-Aqsa Mosque complex – Islam's third holiest spot – to pray, with many remaining to condemn the expulsions.
Israeli air raids, Hamas rockets; According to the Israeli military, Hamas had launched 200 missiles at Israel by early Tuesday morning, including some that were aimed at Jerusalem, with many of them intercepted by Israel's Iron Dome missile defense system. At least two Israelis have died as a result of the attack.
I can only imagine how terrifying it must be to be in the midst of a bombing. My heart breaks for the children and the many families  who are living in fear at the moment. 
This entire bombing issue, in my view, is terrible, because  war has never resolved anything.
Written by El Rodeo News Staff Michael Limon